History of Black Faces in White Places
The Original Vision
Drs. Randal Pinkett, and Jeffrey Robinson, began work on Black Faces in White Places in 2004 with co-author Sakina Spruell-Cole, a free-lance business writer specializing in personal-finance and entrepreneurship.  The proposed project, then titled Black Faces in White Places: The Costs and Benefits of Blacks in Predominantly White Schools, was slated to be released in May 2005 and originally intended to be an autobiography about their growing up in predominantly white neighborhoods, attending predominantly white schools, and successfully navigating predominantly white institutions.
The original vision was for their experiences to serve as a guide for African Americans navigating the social maze of being a Black face in a white place. Randal and Jeffrey believed their stories could serve as a medium to explore the feelings of displacement and sense of isolation one can encounter from being "the only one." They hoped their life stories could inform efforts to close the achievement gap between Blacks and other groups and serve as a guide for African Americans competing in the workplace.
The 10 Game-Changing Strategies
The publishing community saw potential in the idea, but didn't think that their stories were powerful enough to resonate with readers. Adding further insult to injury, two consecutive book agents removed themselves from the project expressing reservations about the book's market potential and concerns about whether Pinkett and Robinson were the right authors to bring it to fruition.  Undeterred by these setbacks, Randal and Jeffrey went back to the drawing board to expand the project and find new representation.
Holding on to their original concept, Randal and Jeffrey looked to other prominent African Americans to further examine the Black faces in white places experience. They enlisted the help of Philana Patterson, a business news editor for the Associated Press, as this project headed in a new direction. The extensive research and interviews conducted in the wake of this new vision gave rise to the "10 game-changing strategies." This new approach gave their original platform a more engaging format.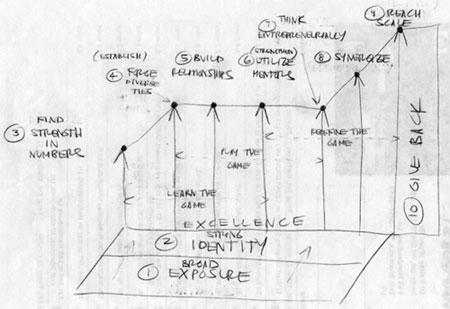 Original concept art for the 10 Game Changing Strategies Diagram
The Birth of a Trilogy
Based on a recommendation from actor, author, activist, friend, and fraternity brother, Hill Harper, the revised proposal was pitched to Vigliano and Associates, a publishing agency that has represented eight New York Times #1 Bestsellers and a wide range of celebrity authors. Vigliano agreed to represent the authors and presented the project to several publishing houses including AMACOM Books, the book publishing division of the American Management Association.  They loved the idea. Randal and Jeffrey signed a book deal with AMACOM Books in December 2009. Black Faces in White Places was then set to be released on October 27, 2010, as the first installment of a trilogy. The second book, Black Faces in High Places, will hopefully be released sometime in 2011-2012, and the final installment of the trilogy is targeted for release sometime in 2012-2013.